So here's more fun questions from
4,ooo questions for getting to know anyone and everyone by Barbara Ann Kipfe! Pretty sure I am living up my glory days through these wonderful questionnaires. After some interest in last weeks survey I've decided to give you an opportunity to link up to the survey with your own answers.



1. How do you stow your socks?



In a little bit of a ghetto sock drawer. We have some storage drawers in our closet that hold all of our undergarments and socks. The sock drawer is overflowing and 90% of them are mine! I kind of have a slight obsession with cute sock. Like I am currently wearing grey zebra print socks with pink toes & ankles!



2. What thought and feelings come to mind when you think of "play"?



I automatically think GAME NIGHT! I love playing games so for me playing is about playing games. We seriously have a closet full of games and I am always scoping out new games. Love them! Some of my favorites: Quelf, What's Yours Like, Apples to Apples & Loaded Questions



3. How does your family celebrate Christmas?



GAMES! Okay, so that's just one of my favorite parts of Christmas but it seemed fitting. Christmas is different now that I am married. This year we did Christmas Eve with his family and Christmas day with mine then the day after with the other side of his family and mine. It's a busy 3 days, but also good. We always go to a Christmas Eve service whether it be together or with family, last year we did both. Not sure what to expect of this next year since there are lots of changes taking place in our families.



4. What are your weekend rituals?



If we have morning plans on Saturday then we like to grab breakfast together at Chick-fil-a. Typically Saturdays are spent just enjoying time together because we don't see each other much during the week. On Sunday morning, we wake up early then serve at the 9am service in the little kids room. Then we attend the 11:15 service. We either grab a bite alone or we meet up with some friends. Most Sunday afternoons are spent at Starbucks, I read a book and Cody studies for his masters program. Wow, we are lame.



5. What wakes you up in the middle of the night?



Hardly anything. No really, it's bad how hard I sleep at night. Typically I wake up because I had a really bad dream about Cody or our relationship. Other than that I sleep like a baby.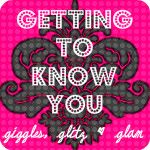 Pin It