1. Are you married/in a relationship/single? For how long?


I am married and am still considered a newly wed. We got married November 21st, 2009! We officially started dating on February 21st, 2009 so this February makes 2 years together. Crazy! I honestly would have had no idea that 2 years ago I'd be marrying Cody...


2. What do you do for a living? Do you enjoy it?


I am an Orphan Coordinator and not to mention 200 other things I am required to do unrelated to that title for Christian Life Ministries, a non-profit organization supporting Kampala, Uganda. We have 1,000 orphans living in 2 villages and I help support that in whatever way possible. Most importantly I communicate with those who sponsor our orphans and try to ensure they remain sponsored. I am also head over our advocacy teams and random special projects. I love my job and my co-workers but not always my boss.


3. In what state do you live? Where were you born and raised?


I was actually born in the city I currently live in although I have not been here my entire life. Although I have always been within 30 minutes over here except for the 4 years I was in college. I am from the DFW metroplex in Texas.


4. Do you have children? If so, how many? If not, do you want them?


I have fur children for now, two dogs. I want to have my own kids and am ready whenever God decides we are ready to become parents. I am so ready to start our little family. I want 4 kids, my husband wants 2. We shall see what happens...


5. Who is your favorite blogger to follow and why?


Oh geez, what a tough question. I honestly don't know if I have a favorite blogger at this time. I am still new to the world so I am just really getting into it for the first time.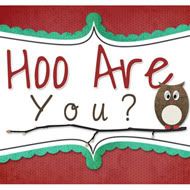 Pin It