Today is a beautiful day so we decided to do the Picnic Date challenged mentioned in my last Relationship Ramblings post. We had a lot of fun on our date! If you have not read the Relationship Ramblings post you might want to do so first and maybe even have your own date before reading the specifics of our date. Part of the date is not knowing about the rest of the date.

The first part of the date Cody had 3 minutes to choose where we would go grab a bite to eat and I had to choose where we would eat our food.


(Don't mind the crazy wind hair)

As we took off for our destination I had 5 guesses to pick where we were going. As soon as we reversed I guessed Pot Belly's, it's always where Cody takes us when he have a picnic date. Although once he knew he would be penalized for my guessing it he wanted to change locations, but didn't.


So he had to dance outside of Potbelly's for 30 seconds. Man does he have some dancin' skills!

We grabbed our food and then I took over the wheel to take us to our picnic site. Cody had 5 guesses and then I would be penalized. Lucky for me, I had just heard of this great place off the lake so I knew he wouldn't guess it. Unlucky for us, it cost $10 to get into the place. Stupid state parks. So we ventured to a neighborhood where the homes are off the lake trying to find this bench we once sat on. We failed. So we went to a park and sat under the trees by a pond.


We ate our lunch then enjoyed the beautiful weather by laying under the trees.
(My delightful meal)


In the date packet, there are several questions you answer about yourself and each other. One of my favorite questions to answer was about the most excellent thing that has happened between us in the last six months. We answer that we read the bible together before bed and that we are growing closer to one another.

We then enjoyed some time throwing the frisbee together until I decided to chunk it in the pond. Overall the date was a huge success minus my losing our frisbee. So long Mr. Frisbee!

Oh wait, how could I almost miss the most important part??? DESSERT! We had to both name each others favorite dessert places. For Cody this would be very easy as all I ever want is frozen yogurt. I know what Cody loves, but not where he enjoys going the most. I said Coldstone Creamery, but was very wrong. I almost said Chili's and I would have been right. But we never go there because well I won't eat it and he will eat frozen yogurt.


White chocolate and coconut mixed together with cookie dough, reese's piece and light blue gummie bears. Yes, I am annoying and pick out just the light blue gummie bears.

Great date and I hope you will join us in the love challenge by checking out the picnic date!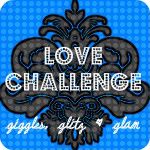 Pin It