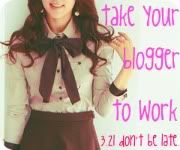 I hate having a 9 to 5 job, let's just be real honest with that. Okay wait...I love having a 9 to 5 instead of an 8 to 5. I like my particular job, but I'd prefer to not have to work. I'd really enjoy to just do my handmade biz or maybe just play with my kids all day. But that's not where I am in life just yet...you can pray this for me though! You can read a little more about my struggle to be employed at my old blog, here.

I apologize but this will be long as it involves dreams for my career from little girl to now and even to future.

Since I was a wee little girl I wanted to be a Kindergarten teacher. I played "school" all the time dreaming about my future as a teacher. I worked with children ever since I was a child through babysitting & volunteering. I even did two volunteer programs my senior year of high school that just nullified my decision to want to be a teacher.

However, my freshman year of college I changed my mind after 1 hour in a pre-k class at the daycare I was working at. I switched to Human Development & Family Studies because the sky was the limit with this degree or so I was told. Let's just be real honest in saying the sky is not at all the limit with this degree. I took two classes that shaped me in college. One being Close Relationships & the other being Marriage & Family Therapy. Both of these classes made me have a real passion for marriage counseling.

I graduated and went into foster care as a Case Manager (just about the only thing you could do with my degree aside from pursuing a Master's degree which I was pursuing at the time). I loved what I did, but hated how I had to do it. Paperwork was tedious, hours were ridiculously long and pay was not that spectacular. I loved my foster kids and the foster parents I worked with. I loved my co-workers and most of the time my boss. I HATED having to track every little thing I did and hated being audited. I worked anywhere from 40-60 hours in a given week. Boo. I tried a different agency hoping this would help and it definitely decreased my hours, but I worked for managed care and I won't ever do that again. I can explain if you want an explanation.

I graduated with a Master's in Counseling but decided not to pursue my LPC (Licensed Professional Counselor) as a) suck at taking tests (expensive) b) wanted to do marriage counseling but didn't want to do it as a single lady c) wanted to start a family & the licensure process took at least 2 years. P.S. I was not even dating at the time. I would like to say that I would have my license by now had I chosen to pursue it. I deeply desired to do marriage counseling but couldn't imagine counseling as a single woman so I held off. I will now use my degree and my desire to counsel to counsel through my church as a lay counselor. This is perfect for me as I get to do what I love but don't have to have a silly title behind my name to prove I'm good at it.

This left me without a dream career...I desired to be a mom and that was it.


A year ago after a long time of searching for a job God blessed me with a part-time job as an Administrative Assistant for a non-profit ministry,
Christian Life Ministries
. A week later after getting to really understand the ministry and my role, the orphan coordinator at the time quit and I was offered the position. I love what we stand for as we try to transform the lives of
1,000 orphans
in Kampala, Uganda.
As in many small offices, I wear many hats but most frequently the hat for Orphan Coordinator. My boss speaks nationally to bring awareness of Uganda and the vision of Christian Life Ministries. Often times he speaks at churches and presents the children who are in need of sponsorship. So each week I process new sponsorships by setting them up in our database as well as in our books. I send them welcome letters, provide Uganda with information regarding new sponsors, add them on facebook, and answer any questions they may have. Before he speaks I have to make profiles for each child using publisher. I just recently launched an advocacy program so I am now in charge of providing our advocates with everything they need to be successful which also includes child profiles, power points & video presentations. Other hats I wear include bookkeeping, social media & anywhere I may need to fill in at a given time. For example, two months out of the year I fill in for our Office Manager/Missions Coordinator while she is in Uganda. (I am 100% sure I forgot half of my tasks, but you get the jist of it) I love that I get to make a difference in the lives of 1,000 orphans even if it sometimes means I have to do a tedious task that no one enjoys doing!
It is through this job that I started my blogging/handmade biz adventures. It all started because I had a desire to see our girls get new dresses through
The Pillowcase Project
. I began to sew dresses with my co-worker and several of our friends and family. Before you knew it I loved sewing and wanted to do it more. So that's when I started my own business. Plus while I was searching for tutorials I ran into a plethora of crafty blogs and fell in love. It's all been down hill since. Because of my new desire to make things, I have had a desire to open my own boutique or sewing shop with a friend. Who knows what my future holds once I become a mom as I know my desire it not to work full-time but to be a mother.
Since I am over social media at my job, my handmade biz gets the benefit because I am always trying to learn new things to be better for work and in turn improving my personal blog/social media network. And vice versa. Some of the things I learn after hours have helped me tremendously at work...for example,
hoot suite
! Genius!
Pin It