Check out all of the yummy recipes and fun from the Summer Supper Club over at The Roseland Family! Pretty sure I need to start up the Supper Club with a few friends here. We used to have a monthly newlyweds dinner, but it kind of faded out. It was different couples every time, but it was nice to get to know a few other couples. This would be great to grow really close to a couple other couples!!

Check out this awesome ruffle camera strap tutorial from The Life of Jennifer Dawn!
I've been wanting a strap cover for my camera, but just can't justify spending money on it so looks like I can make my own now!!

Check out this incredible Camping Cake from over at Fowl Single File!
Looks like I need to remember this for future birthday parties because this is too fun!
We find out the sex of the baby tomorrow so of course I'd be enticed to be in love with this great Sock Monkey themed Baby Shower over at Giggles Galore!
If it's a boy I'm totally sending this idea over to my friends, however, if it's a girl I've already picked out a different theme. I just love this!!

Can't wait to see what you have to share.
Do me one favor and link back to my page with either my button or text link.
Also, go ahead and visit the 2-3 people before you and leave some comment love.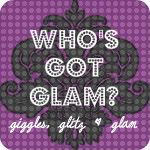 Pin It