How cute is this little birthday wreath from Life with Luke? I love this wreath and the entire rest of Luke's 1st Birthday party. Seriously so cute!! I better start pinning birthday ideas for a year from now because people are so dang creative!!! :)
Okay, I love this birthday party too!! I love the variety of themed parties and it's not just about character parties any more. Check out this too cute polka dot party from over at Fowl Single File. Too cute!!

Can't wait to see what you have to share!
Do me one favor and link back to my page with either my button or text link.
Also, go ahead and visit the 2-3 people before you and leave some comment love.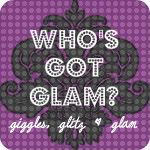 Pin It