Since I may not be getting to feature to many people over the next two months as I'm out on maternity leave I've decided to feature a few extra today...

I adore this scripture wall decor from I Heart My Glue Gun!
I could find a place for this in my home for sure.

After discovering I only have a few fall decor items, these fall block letters from Everything Under the Moon captured my attention. I need fall decor, but will have to wait until next year because with baby coming soon we are decorating early for Christmas this year!

Loving this fall inspired wreath from Roubinek Reality!
This would also be good to add to my fall decor for next year...

How adorable are these apple outfits from Polkadots on Parade?
Wish me, my sister & cousin would have had something this cute to wear back when we used to go to the Apple Orchard every year. Too cute!

This 1980's vintage care bears night gown turned into a dress from avery & anderson is just simply adorable. Kind of wish I had one of my old nightgowns still so I could make something cute & sentimental for my sweet little girl.

I could really use one of these infant carrier canopy's from Lil' Pink Pocket for little Miss Emily! I especially love how cute this one turned out! :)

Can't wait to see what you have to share!
Do me one favor and link back to my page with either my button or text link.
Also, go ahead and visit the 2-3 people before you and leave some comment love.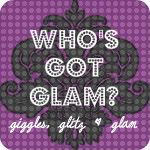 Pin It