I apologize for the inconvenience of the links being temporarily unavailable. I had no warning that my subscription was up so it's been renewed but it may take a little time to get things running again. Please check back it should be up again soon. Again, I apologize for the inconvenience.



How cute are these paint chip garland strands from Amelia Bedelia? I've considered doing something very similar in Emily's nursery so I might have to add the cute garland.
I love how this family tree from From Gardners 2 Bergers turned out. Although it will take some time I wouldn't mind making one of these for myself.

This white hot chocolate from The Seven Year Cottage not only looks delicious but sounds good too. Mmm!!

Can't wait to see what you have to share!
Do me one favor and link back to my page with either my button or text link.
Also, go ahead and visit the 2-3 people before you and leave some comment love.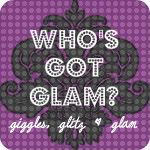 Pin It