Okay this mason jar light & other pieces of from the home of Rustic
Living
is super cute, but it's just the cherry on top of a really cute rustic home. Seriously go check out her blog because it will make you consider redoing your entire home. Or at least I thought about it. Her home is the type of place you want to stay at when your on a vacation to float the river.
Then there is this awesome red vintage credenza & photo stand from Creative Raisins. I mean it pops because it's red and as you take a closer look at all the vintage items you become inspired. I feel like I may need a thrift shopping spree.

Holy yumminess! Check out this apple pie with cinnamon roll crust from Feeding My Temple. I am seriously drooling. Just need a scoop of ice cream & I'm set to go!

Can't wait to see what you have to share!
Do me one favor and link back to my page with either my button or text link.
Also, go ahead and visit the 2-3 people before you and leave some comment love.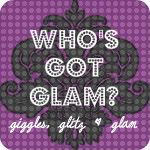 Pin It